Custom Tooling requires a great deal of precision, time and accuracy. The process of having an injection mold designed and tooled can represent the largest investment in the manufacturing process. Getting the mold design right the first time will reduce the amount of time needed to bring your product to market.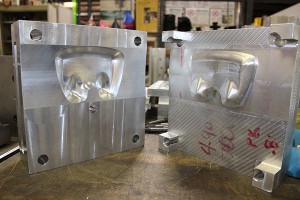 At JB Plastics our in-house tool shop makes it easy to design, create, alter and service custom injection molds. Without having to outsource these steps, we are able to provide our customers with quick and competitive service when molds are in need of modification and repair. Our tool shop is led by our engineers and mold technicians that have years of experience and tooling knowledge, staying up to date on industry standards. Our master mold maker brings over 30 years of experience to ensure a high level of care when tooling custom molds.
Injection Mold Design
Our tooling experience includes designing and engineering solutions for both simple open and shut tools to more complex molds with multiple cavities and movements. At JB Plastics we specialize in insert molding, multi-resin, and elastomer overmolding to create unique plastic products for our customers.
When it comes to the injection mold design, our engineers and master mold maker consult our customers on the ideal core metal to use for custom tooling. The metal used for your custom tool can range from aluminum molds to hardened steel molds. Run time, run size, and thermoplastic material are a few factors to consider when designing a custom tool.
Our Toyo Presses have the capacity to run plastic parts for molds as large as 28" x 28" footprints with clamping forces ranging from 90 to 500 tons.
Custom Tooling Includes:
Our tool shop is capable of tooling a wide range of custom molds to best fit your product expectations. The following are some of the molds JB Plastics is capable of tooling.
Multi-cavity hot runner molds
Aluminum molds
Steel Molds
3 plate molds
Threaded insert molds
Stripper plate molds
Standard molds
And much more!
Tooling Services Include:
Mold Design
Mold Maintenance
Mold Repair
Mold Modification
Trust JB Plastics with your Custom Tooling
Need a new mold designed and tooled or have an existing mold in need of service? Contact our team of engineers with any custom tooling questions. Find out how our in-house tool shop gives JB Plastics the competitive advantage over other injection mold makers in Orange County California.