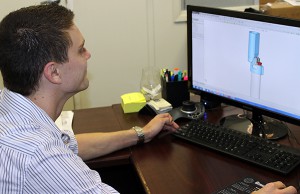 Our Design Engineers have 25+ years combined experience in product and mold design ensuring that your concept will be correctly designed for manufacturing. We use the most current version of Solid Works to manage the development process.
Engineering Services include:
Product Design
DFM
Prototyping
Process management
Product testing
Part Drawings & Specifications
Our team works with customers to select and apply the most effective materials and manufacturing methods to meet each client's product and cost goals and create great products that bring profitability and performance.
The Engineering process includes Design for Manufacturability, insuring highly reliable and efficient, low-cost manufacturing. From the start of any customer's project we design your product to have the best balance between esthetics, functionality, reliability and costs. Before we complete the engineering phase we make sure that all products meet the customer's criteria. Because our engineering teams are integrated from the start, your ideas will not progress through the manufacturing process until all teams agree that they are marketable, functional and cost effective.
Once prototyping is completed, your product goes through a final design and manufacturing review making sure all tolerances, expected efficiencies, quality and time to market all meet the customer's expectations. Most new products can be improved over time as they are tested and used in the field. At JB-Plastics we are committed to continuous improvement.