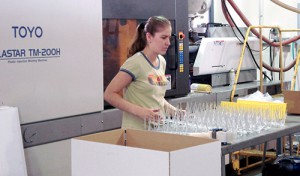 Not all plastic injection-molding companies are alike. Some offer certain specific services; others provide a complete range of services and a full breadth of capabilities.
Custom injection molding uses precise tooling to create plastic models that fit your exact specifications. A custom injection mold is created to produce the precise size and shape needed for the particular product you need. Once the custom injection mold is approved, the plastic is heated to the most efficient injection temperature. High-pressure tools then insert the plastic at specified rates for the best result. The plastic product is then cooled to its finished form and ready for quality control inspection. Once the product passes QC, it is properly packed and shipped to the customer.
Injection molding companies typically offer a wide range of products to choose from. These products run the gamut and may include:
NSF Certified Products like soft drink fountain components
Dairy Certified Products like caps, spouts and adaptors
Automotive/Motorcycle Products like taillight, turn signal lenses and housings, fuse holders, speaker brackets and assemblies, RV components
E.M. Products like fuse pullers, circuit and voltage testers, vending machine parts, point of purchase display components, computer cases and components
Consumer Products like camera cases, glasses, flowerpots, clock parts, telephone internal parts, timers and scale parts
Medical, Non-Intrusive Products like unit dose medicine packaging and many other convenience containers designed to meet a specific storage need or application.
Other examples of plastic injection molded products include:
Gears, Pulleys, Washers and Brackets
Enclosures
Robot Parts
Front Panels
Toy Parts
Knobs
Packaging
Appliance Parts
Power Tools
Electronic Enclosures
Valves
Display Windows
Plastic injection molding can be successfully used to form most plastics, including:
Nylon
Acetal
Polycarbonate
Polystyrene
Acrylic
Teflon
ABS
PVC
When evaluating a plastic injection molding company, it's important to consider quality as well as breadth of capabilities. One should look for experience and expertise throughout the entire process. The best companies have highly skilled team members specializing in every aspect of production, assembly, packaging, distribution, and tooling. They will offer a full spectrum of services, which may include everything from product concept through manufacturing and distribution.
Consider too, a company's track record and long-term relationships with its customers. This is important as customer loyalty says a lot about a company and its ability to deliver a quality product on time and within budget.