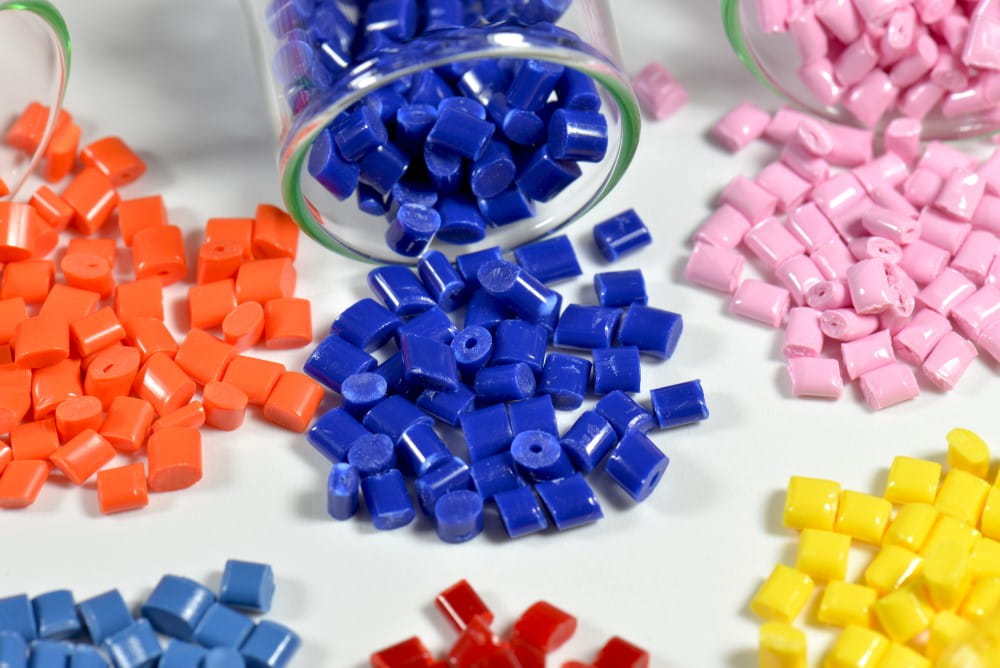 Selecting the best thermoplastic material for your product is one of the most important decisions to make during the design phase of your project. The team at JB Plastics is here to answer all your questions about various plastic resins and their properties. The following is a brief introduction to material selection and eight of the most common thermoplastics used for injection molding.
Thermoplastic injection molding is the most prevalent manufacturing process in use today. As a result, it's used to manufacture everything from toys to medical devices and from electronics to car parts; the process and the materials are versatile and well-suited to an endless array of industries and applications.
What are Thermoplastics?
Very simply, thermoplastics are polymers that melt when heated and harden when cooled. The change thermoplastics undergo during the melting/molding/cooling process is purely physical, which means it can be reversed and repeated almost indefinitely. You can compare these resins to ice; when heated, ice melts and becomes a viscous liquid and when cooled, it becomes solid again. Ice can take on the form of any mold and can be melted, molded, and cooled over and over again.
Contrast this with Thermoset Materials
Thermoset materials undergo a chemical change so the process cannot be reversed. Thermoset plastics are cured rather than cooled. During the curing process, the polymers link together and form new, strong, permanent bonds. A good metaphor for these types of materials is concrete; concrete hardens as the result of a chemical change and heating the concrete will not reverse the process.
Advantages of Thermoplastics:
Thermoplastics offer a number of distinct manufacturing advantages including the following:
8 Most Common Thermoplastic Resins
There are quite literally thousands of resin compounds that fall under the thermoplastic umbrella; choosing the right one for your application can be daunting. Working with the expert team at JB Plastics will help you sort through the many options to find the material that will satisfy your requirements. Our team will help make the material selection process a little less daunting.
Thermoplastics are versatile because additives and fillers can easily be added to the polymers to enhance the features of the material. Defining which characteristics are important for your product will determine the right plastic to use for production. The following is a brief look at eight of the most common thermoplastic materials used in injection molding:
1. Acrylonitrile Butadiene Styrene (ABS)
ABS is a composite polymer made from three components – Acrylonitrile, Butadiene, and Styrene. Together these three monomers create a product that is flexible and light.
Benefits of ABS:
Widely available
Easily modified to enhance strength, heat protection, impact resistance, shine, etc.
Limited shrinkage
Easily painted
Good electrical properties
Common uses for ABS:
drain pipe systems, LEGO bricks, kitchen appliances, golf clubs, musical instruments, car parts, electronics
2. Acetyl
Acetyl plastic, also known as polyoxymethylene (POM) is a general purpose engineered thermoplastic resin commonly used for products that need to be very stiff and exhibit good dimensional stability and low surface friction. It is available in two formulations: homopolymer acetal (POM-H) and copolymer acetal (POM-C). Porosity is at the heart of the difference between these two; POM-H may have a low density, somewhat porous center containing small bubbles or voids that allow gases and liquids entrance into the plastic. POM-C has little to no porosity, making it the preferred material for medical or food contact applications.
Benefits of Acetyl:
Strong
Stiff
Machinable
Low moisture absorption
Low friction
Chemically resistant
Common uses for Acetyl:
eye glass frames, connectors, door lock systems, model train parts, insulin pens, medical inhalers, coffee spigots, zippers
3. Acrylic
Acrylic is also known as poly (methyl methacrylate) or PMMA. This thermoplastic resin is commonly used as a replacement for glass. While PMMA is durable, it can also be brittle and somewhat expensive. Brand names of PMMA include Lucite and Plexiglass.
Benefits of Acrylic:
Transmit and control light
Weather resistant
Scratch resistant
Polishes to a high sheen
Common uses for Acrylic:
helmet visors, eye glass lenses, airplane windows, aquariums, exterior light covers for cars.
4. Polypropylene
Polypropylene (PP) is a common plastic composed of multiple propylene monomers used in a wide range of industries. PP plastics demonstrate good thermal, chemical, and electrical properties. In addition, they have the lowest density of any commodity plastic. PP is flexible, tough, and reasonably economical. It's also a starting place for many engineered plastics.
Benefits of Polypropylene:
High melting point
Strong resistance to stress and cracking
High impact resistance
Food safe
Common uses for Polypropylene:
laboratory tools, food containers, car batteries, flip-top bottle lids
5. Polycarbonate
Thermoplastics such as polycarbonate are used in a wide variety of applications, especially when transparency and impact resistance are important. Polycarbonate is available in a variety of grades ranging from general purpose to specialty grades that are flame resistant, food safe, or contamination resistant.
Benefits of Polycarbonate:
Tough over a wide range of temperatures
Dimensional stability
Transparent
Heat resistant
Flame resistant
Common uses for Polycarbonate:
eye glass lenses, greenhouses, DVDs, medical devices, cell phones, light covers
6. Polyethylene
Polyethylenes have a variable crystalline structure and are available in a broad range of formulations. This is why polyethylenes are possibly the most widely used thermoplastics. The two most common are high-thickness polyethylene (HDPE) and low-thickness polyethylene (LDPE).
Benefits of Polyethylene:
Low water absorption
Dimensional stability
Pliable
Hard
Stiff
Easily recyclable
Opaque and transparent forms
Common uses for Polyethylene:
artificial joints, shampoo bottles, bullet proof vests, shopping bags, pipes, milk jugs
7. High Impact Polystyrene (HIPS)
This popular resin is created by modifying crystal styrene with rubber to give it impact resistance. It is a standard amorphous thermoplastic used in low heat applications. For instance, products made with HIPS plastic work well for high volumes of small plastic parts, parts with high levels of detail, and parts with variable thicknesses.
Benefits of HIPS:
Ease of processing
High impact strength
Stiff
Lightweight
Easy to print, glue, and paint
Low cost
Common uses for HIPS:
disposable cutlery, CD and DVD cases, plastic cups, architectural models, toys, electronic housings
8. Thermoplastic Elastomers (TPE)
Thermoplastic Elastomers are a group of materials that combine the properties of rubber (a thermoset resin) with the processing and recycling advantages of plastics. TPEs contain an elastomer that gives the material its soft, elastic properties and a polymer that provides strength. There are many different types of TPEs available to suit a variety of applications. As a result, TPEs are used as alternative to silicon, latex, or rubber.
Benefits of TPE:
Simple processing
Quick fabrication times
Easy rework, low waste
Common uses for TPE:
baby bottles, soft touch baby cutlery, sealing rings, soft touch handles, bottle cap liners
JB Plastics Can Help Choose the Best Thermoplastic!
Distinguishing between the many types of available thermoplastics is critical to developing your product design and production plan.
The experts at JB plastics are here to provide comprehensive injection molding services from concept to market and every step in between. We work with a wide variety of materials and will help find the best thermoplastic resin for your plastic part. Contact us today to talk about material selection for your next big product idea.