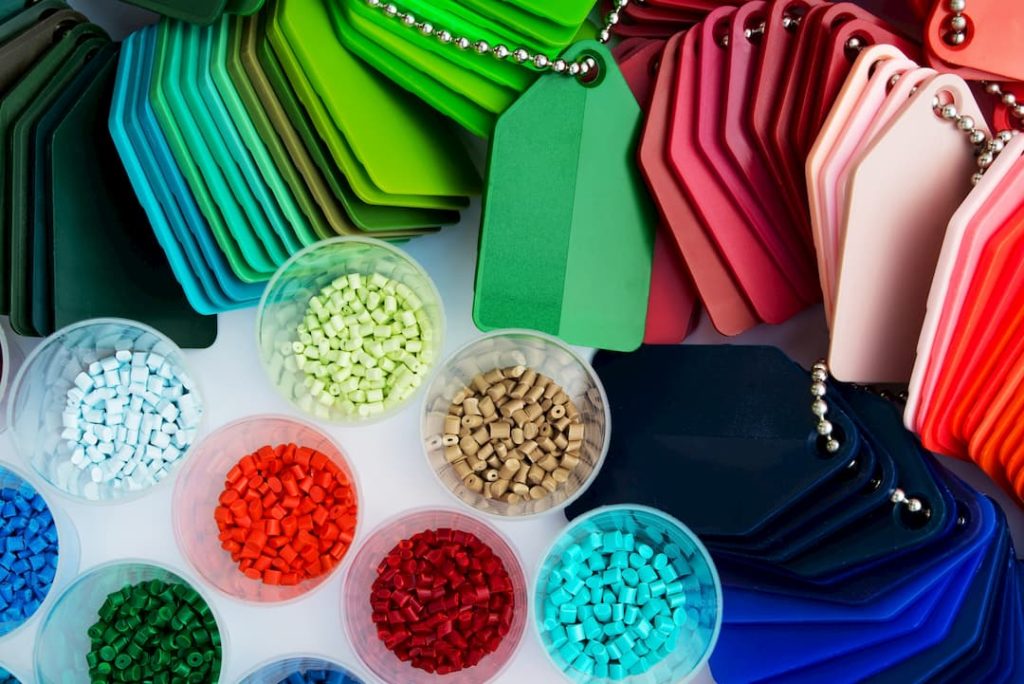 You may have heard the terms Commodity and Engineered Plastics when searching for the right materials to use for your plastic product. Both of which have specific characteristics that cement their place in custom injection molding. The differences are broken down in the latter half of this blog, but first it's important to understand the basics of thermoplastic materials.  
An Introduction to Thermoplastics
Choosing the right material for your product is critical to success; the right material is both effective and cost efficient. Thermoplastics are one of the most prevalent materials used in manufacturing today for both of those reasons. Plastics refers to materials that can be pushed and molded during processing into any shape and then retain that shape. Thermoplastics are a subset of plastics; these materials are processed using heat. This ability to soften to a liquid in high heat and harden to a solid when cooled makes thermoplastics an ideal material for use in injection molding.
So ideal, in fact, that in 2019, over 100 billion pounds of thermoplastics were produced, a whopping 85% of all plastics. One of the many reasons thermoplastics are so prevalent in manufacturing is their versatility. These resins contain chemical bonds called polymers. Introducing different molecules into the polymer chains changes the characteristics of the material making it possible to modify properties such as impact resistance, clarity, temperature resistance, and tensile strength. As a result, thermoplastics have a presence in nearly every industry.
Thermoplastic resins provide a number of advantages, including the following:
High recyclability
High impact resistance
Significant reshaping ability
High chemical resistance
Varied finishing options
Good dimensional stability
Disadvantages of thermoplastics include the following:
High cost for some materials
Low melting point
High propensity to fracture under stress
Significant sensitivity to organic solvents
What's the Difference?
As mentioned earlier, the polymers in thermoplastic resins can be modified to achieve materials with varied properties. The options for thermoplastic materials are wide and varied. High volume products that do not require exceptional material characteristics are made from commodity plastics. Low volume products that require strong mechanical or thermal properties are commonly made from engineered plastics. The following takes a closer look at each of these categories and their uses.
Commodity Plastics: What are they used for?
Commodity plastics are thermoplastics that are produced in exceptionally high quantities for applications that don't require any special, highly engineered properties.
Commodity thermoplastics are by far the most prevalent plastics; the majority of the world's plastic products are made from these six materials:
Isotactic Polypropylene (i-PP). This is one of the least expensive thermoplastics and makes up roughly 23% of worldwide plastics consumption. I-PP has high impact resistance, is easy to mold, is flexible, and has low impact resistance. It's used widely in the packaging, textile, and automotive industries.
Low Density Polyethylene (LDPE). LDPE is the second most widely used thermoplastic, about 17% of the world's consumption, and is the least expensive material. Common uses include plastic bags, toys, lids, general purpose containers, and many more.
Polyvinylchloride (PVC). This plastic is third on the list and accounts for about 16% of global plastic consumption. Pure PVC is rigid and hard. It is used widely in the construction industry, healthcare/medical products, electronics, and toys.
Polystyrene (PS). Polystyrene makes up 7% of plastics consumption. PS has excellent thermal and electrical properties, but is brittle. It's most often used in things like eating utensils, housewares, toys, and cosmetic containers. It's also found in various construction materials including siding, bath and shower units, and insulation.
Polyester. Polyethylene terephthalate (PET) is the most common polyester. It is strong, heat resistant, and dimensionally stable, especially when reinforced by fibers. This makes it an especially attractive material for the textile industry. PET is also widely used for plastic bottles.
Polyurethane (PU). PU is used to manufacture foam seating, elastomeric tires, high-performance adhesives, sealants, textiles such as Spandex, hose, and more.
Commodity Plastics Great for High Volumes
These and other commodity polymers are readily available in large volumes at reasonably low cost and are suitable for a wide range of applications. These plastics make up the vast majority of the plastics we encounter everyday.
Engineered Plastics: Are they worth the extra cost?
Engineered thermoplastics are blended to exhibit properties not commonly found in commodity resins. These materials are used in challenging applications where standard plastics will not suffice and as a way to replace costlier materials such as metal and wood. Engineered plastics are often developed to resist high temperatures, corrosion, and wear.
As a result, they are often seen in demanding industries such as aerospace, medicine, safety, or the military. An engineered thermoplastic may cost a bit more on the front end, but the ability to deliver unique project specifications far outweighs this extra cost.
Examples of engineered resins include the following:
Acetal (POM): typical uses include bearings, springs, and valve parts
Acrylonitrile Butadiene Styrene (ABS): widely used in the automotive industry
Polyether ether ketone (PEEK): used in medical and healthcare fields
Polyamides (nylon): used in textiles and automotive applications
Polycarbonate: electronic components, specialty construction materials, and medical devices that will be exposed to gamma radiation
Polybutylene Terephthalate (PBT): electronic components
Polytetrafluoroethylene (Teflon): used in nonstick cookware and lubricants
The wide variety of resins available means there's one for your application.
JB Plastics will Help You Choose the Right Materials
The team at JB Plastics has extensive experience with both commodity and engineered thermoplastic resins. We can help you determine which thermoplastic material is right for your product.
We provide comprehensive injection molding services in the Orange County and wider Southern California area; from concept to market, we've got you covered. Contact us today to discuss how we can help you bring your ideas to life.