Plastic injection Molding uses custom-made, precision tooling molds to mass produce identical plastic units in high-volumes. This plastic manufacturing process maximizes production volume while minimizing cost per unit.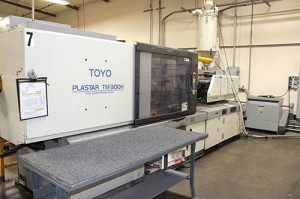 JB Plastics has earned its reputation for being one of Southern California's leaders in plastic injection molding. Our team offers comprehensive injection molding services that provide our customers with one point of accountability to meet quality and delivery goals. We offer the opportunity to leverage the benefits of partnering with a domestic plastic manufacturer while avoiding the risks of offshoring your supply chain production.
Integrated Injection Molding Services
We bring a project management approach with integrated services to every project we take on. These services include part design and custom tooling to final part production, assembly, packaging and fulfillment. Our engineering team, mold technicians and master mold maker work together to ensure quality standards are met, while our plant managers ensure production and secondary operations meet fulfillment goals.
Specializing in high-volume runs of 10,000 parts or larger, our 8 Toyo Presses have the capacity to handle clamping forces ranging from 90 to 500 tons with the flexibility to run molds as large as 28" x 28" footprints. Not only do we have the capacity to meet high-volume runs but we also have the ability to process low-volume production for short-run custom molded parts.
Our Processing Experts have a combined 25+ years of experience running our Toyo Presses. They are trained to trouble shoot the entire molding process; ensuring cycle times are optimized and products meet quality standards.
Our Machine Operators ensure that parts are output, trimmed and packaged correctly. They handle all aspects of the molding runs including hand loaded inserts and quality assurance.
Material Selection for Plastic Injection Molding:
When it comes to materials selection, choosing the right thermoplastic resin is a crucial component to the injection molding process. At JB Plastics our expert staff is here to make recommendations from a wide range of commodity, engineering, and specialty plastics to best suit your injection molded part.
The following are some of the most common thermoplastic resins used during material selection.
Polypropylene
Polycarbonate
Polyethylene
PVC
TPE
Nylon
ABS
Acetyl
Have Questions About Injection Molding?
At JB Plastics our staff is ready to answer any question related to the custom injection molding process. Have a new product requiring consultation or have an existing mold in dire need of a new injection molding partner? Find out why JB Plastics leads the Orange County California area in plastic injection molding.