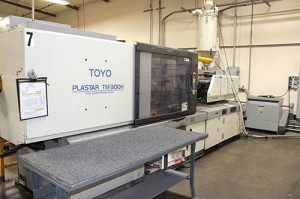 JB Plastics offers comprehensive injection molding services that provide our customers with one point of accountability to meet their quality and delivery goals. We bring a project management approach and integrated services to every project we take on. From Tool design and material selection, to final product production, we will be your partners through the entire process of bringing your product to market.
Our Processing Experts have a combined 25+ years of experience running all of our Toyo Presses. They are trained to trouble shoot the entire molding process; ensuring that cycle times are optimized and products all have a consistent quality.
Our Machine Operators ensure that parts are output, trimmed and packaged correctly. They handle all aspects of the molding runs including hand loaded inserts and quality assurance.
Injection Molding Material:
Polypropylene
Polycarbonate
Polyethylene
PVC
TPE
Nylon
ABS
Acetyl