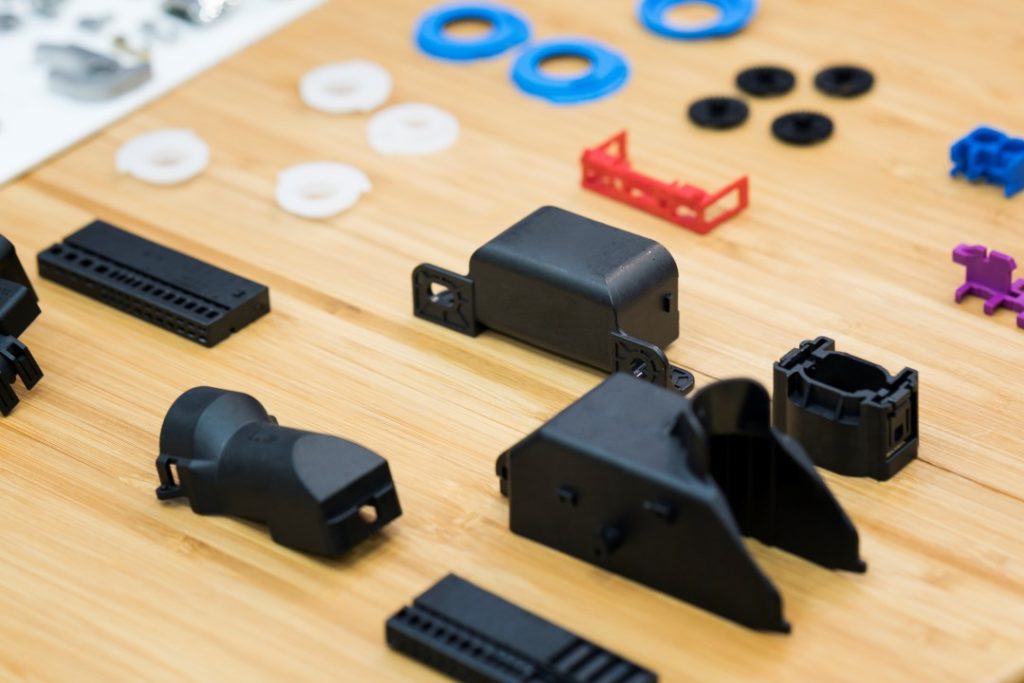 Short-run plastic injection molding, also known as small-run or low-volume injection molding, is a specialized process that uses molds made from less expensive aluminum or lower-grade steel to facilitate "small" production runs. Short-run injection molding is a cost-effective way to get all the same cost, quality, and efficiency benefits of standard injection molding. Typically keeping each production run under 10,000 units, but it's not uncommon to see runs as low as a few hundred or even runs under 100 units for certain markets.
A Quick Look at Injection Molding
Plastic injection molding is by far the most widely used molding manufacturing technology available; in terms of accuracy, efficiency, and unit cost, no other plastic production method even comes close. As a result, it should come as no surprise that plastic injection molded products are everywhere. Your computer keyboard, your TV remote, the flatware from last night's takeout, the toy you stepped on with bare feet last night, and the dashboard of your car are just a few of the millions of products manufactured via injection molding every year.
The injection molding process, very simplified, looks like this:
Pellets of plastic feedstock are fed into a hopper
These pellets make their way into a heated barrel that contains a screw-like plunger mechanism
The rotating screw pulls the now molten material forward and mixes in any additives
The plunger forces a high-pressure "shot" of the hot plastic into a mold that sits clamped together at the end of the barrel
Ejector pins within the mold give the molded parts a nudge and pops them out
Runners and excess material are removed and the product is ready
This complex, highly engineered production process can be repeated literally millions of times and achieve consistent results every time.
The Mold is the Key
An injection molding operation has three basic components: the injection mechanism, the mold, and the clamp. While the injection mechanism and clamps remain reasonably consistent from run to run, every product requires a different mold. Typical high-volume molds are created from hardened steel , a material which is able to withstand the extreme pressures and temperatures involved in injection molding. (It can take tens of thousands of pounds of pressure to force molten plastic into the many cavities within a mold!)
Thus, the mold is often the single most expensive piece of the process, with some molds costing tens of thousands and upwards of hundreds of thousands of dollars . Measured over a production run of millions, which is how long hardened steel molds will last, this cost becomes insignificant.
But what if your production run is smaller?
Short-Run Plastic Injection Molding
While a production run of 10,000 units may not sound particularly short, it is relatively short in the world of injection molding where production runs regularly reach well into the millions or more. But not every production run needs to be that large; there is a real market for smaller quantities of injection molded parts that retain the same precision and cost advantages of larger runs.
Benefits of short-run plastic injection molding include the following:
Improves Time to Market
The advantages of being the first to market cannot be overstated. Short-run injection molding helps innovators and developers get their ideas into production quickly. Quality prototypes can be produced in very little time and low production runs and reasonably inexpensive molds accelerate concept testing and design feedback before products go to mass production.
This time advantage is especially significant for emerging markets and rapidly changing markets, where the need to beat the competition in getting a working model to the customer is real.
Opens Batch Manufacturing to Small and Medium-Sized Businesses
Batch manufacturing offers significant cost and efficiency savings. For small and medium sized businesses to compete in the marketplace, they have to be able to harness these benefits and short-run plastic injection molding makes that possible. For a low initial investment, businesses requiring low volumes can still create high-quality plastic parts.
This means niche markets such as exotic cars, aerospace, medical, electronics and others are able to create high-end plastic components at low volumes while maintaining quality and consistency and while keeping costs down. Sometimes these markets call for production runs as low as 100 units or less.
Bridges the Gap Between Prototype and Full Production
Low-volume injection molding provides engineers with a working model that can then be used to produce the final design of the production tools. Beyond that, the revenue from the initial limited run can be used to finance final production costs.
In addition, because modifying a short-run tool is easy and inexpensive, problems and design improvements can be rapidly addressed. A small run also limits your exposure if the initial design is not immediately successful.
Trust JB Plastics, Inc. with Your Short-Run Plastic Injection Molding
JB Plastics, Inc. is an US company that provides a full range of services, including short-run plastic injection molding. Our top-notch equipment, design engineers and mold technicians provide all the speed, accuracy, quality, and flexibility you need.
With the help of JB Plastics, you can get your parts when you want them and within your budget. If you have questions about our low-volume production process or you have a product you're ready to manufacture, contact our team today! (714) 541-8500